Amherst, NY Replacement Windows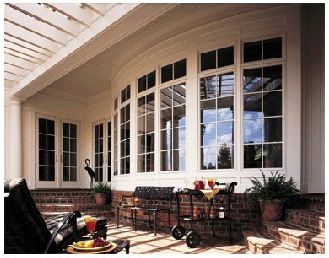 Having the best replacement windows in Amherst can significantly reduce the financial impact of heating and cooling your home. The right type of window can also add aesthetic value to any home. Many factors go into the decision of getting windows replaced, making this a substantial investment. Potential repair costs, maintenance, and visual appeal are all part of the decision-making process in choosing the right window for you.
The first order of business in selecting your window replacements should be choosing a material. Each unique material comes with its own set of benefits, but they all provide tremendous value in terms of home improvement.
Wood Replacement Windows
Selecting a wood material for your replacement window means preparing for a lot of future maintenance, as weather can place a great amount of wear and tear on these windows. Despite these potential costs, the wood material provides a wonderful feeling, and it is extremely pleasing to look at. For those who aren't afraid of upkeep costs and are looking for that added feeling of warmth and style when selecting a material for your Replacement Windows, look no further than wood replacement windows.
Clad Replacement Windows
While wood windows offer little resistance to the elements, clad replacement windows offer a significant improvement in this area. Clad windows still offer the same appeal as wood windows, but they also prove to hold up very well in the harsh Amherst weather. Clad replacement windows provide a sensible alternative to wood windows for owners more concerned with the long-term health of their windows.
A viable alternative to standard wood clad windows is vinyl clad windows. These vinyl clad replacement windows offer a wide variety of colors, and also require minimal upkeep over their lifetime. For your Replacement Windows, vinyl clad windows are among the best in terms of durability during harsh weather conditions, and will last through many years of natural damage.
Fiberglass Replacement Windows
For those looking for a high amount of flexibility in terms of colors and style, fiberglass replacement windows are a good alternative. These fiberglass windows are also very affordable compared to other materials. Also, unlike more expensive wood and vinyl windows, fiberglass windows can be painted in different colors, allowing owners to experiment with various styles. The fiberglass material will not wear or split the same way that a wood or vinyl window would under similar circumstances, making this material a good choice for your Replacement Windows.
Your First Choice For Replacement Windows in Amherst
Aluminum replacement windows are also a great choice for those looking to save money on their windows. Their lightweight nature is helpful for those that have problems moving heavier wood windows. Despite their lighter composition, aluminum windows are still capable of holding up against the elements, providing years of durable protection for your home. This aluminum material is a great choice for your Amherst Replacement Windows.