Buffalo Gutter Repairs
Neglecting home gutter repairs in Buffalo can lead to costly problems down the line. Improperly installed or clogged gutter systems can cause roof leaks, flooded basements, or even damage to your home's foundation. Gutters are an exterior feature that can make a big difference in the curb appeal of a house. Maintaining and replacing your gutter system when necessary increases the resale value of the home and protects your biggest investment.
Buffalo New York Gutter Repair
Having a professional install new gutters, or repair the old ones, is a good investment when you consider their practical and aesthetic functions. Buffalo's climate presents special challenges for gutters and the methods used to attach them securely.
Stockmohr provides these great benefits for all our Buffalo gutter repair customers: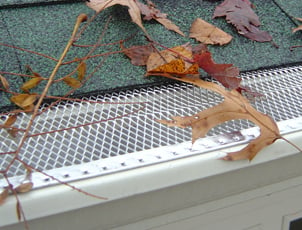 We use only the highest quality products available
We make customers our #1 priority
We guarantee our work because we always complete gutter repairs correctly the first time around
We make every effort to ensure your new gutters are working properly and gladly perform any follow-up tasks
We install seamless aluminum gutters or downspouts that either match the color of your existing gutters or another color of your choice
We also offer a new product called LEAF RELIEF®,a nearly transparent gutter cover considered by industry experts to be the most effective cover on the market.
Recognizing The Need For Buffalo Gutter Repairs
If your gutters are not draining properly, hard to detect damage could be occurring around your home. Including mold, insect infestations, and foundation problems. Contact a professional gutter installer at Stockmohr today to schedule a free in-home estimate and to find out more about our other home improvement services!