Williamsville Gutter Repairs
Neglecting to repair gutters that allow rain to saturate your home's perimeters may lead to structural damage, flooded basements and interior leakage. Deteriorating gutters also devalue your home's worth and will compromise your ability to sell your home for the price you want.
Don't wait until leaky gutters cause extensive damage to repair your gutters. For residents of Williamsville, gutter repairs provided by StockMohr are backed by over 30 years experience by reliable technicians who belong to the Home Improvement Council of Western New York and are listed with the Better Business Bureau for over 20 years.
Gutter Repairs in Williamsville
Stockmohr provides these great benefits for all our Williamsville gutter repair customers:
We use only the highest quality products available
We make customers our #1 priority
We guarantee our work because we always complete gutter repairs correctly the first time around
We make every effort to ensure your new gutters are working properly and gladly perform any follow-up tasks
We install seamless aluminum gutters or downspouts that either match the color of your existing gutters or another color of your choice
We also offer a new product called LEAF RELIEF®,a nearly transparent gutter cover considered by industry experts to be the most effective cover on the market.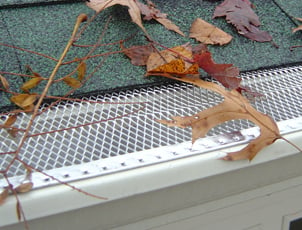 If your gutters leak each time it rains, your property could be suffering irreparable damage that could potentially lead to mold removal, pest infestations, basement remodeling or even the inability to live in your home due to extensive water damage.
Call StockMohr today at 716-741-9636 to schedule a free, in-home estimate to find out more about our Williamsville gutter repair and other home improvement services.