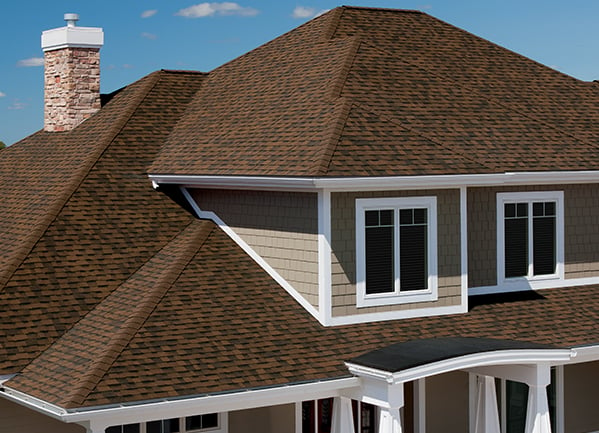 Getting a new roof is exciting for a lot of reasons! It's the perfect opportunity to update the look of your home while improving its value and performance. The options are endless! However, there are a few things you'll want to consider when picking out the style of your new roof shingles that may help you decide on the perfect color.
Color coordination

Of course, style is a factor in designing your ideal roof! A common choice for the color of a roof is to contrast it with a color that complements your home's color palette. A tip that may help is choosing a color that is found in the brick or trim of your home. For example, a brown or neutral-colored home would look great with a mix of cream and brown for roof shingles, or, you can make a statement by using a green shade.
The best part about selecting shingles for your roof is that it's entirely up to you! Stockmohr is proud to offer Owens Corning, who provide a Design EyeQ® Visualization Experience for homeowners to see specific colors and styles on their actual home (or a home just like it).
If keeping things traditional is not your thing, but you plan to sell your home in the future--consider a more conventional approach to the color of your roof. A bold red or green may look great to many, but a more subtle color, like brown or black, is best to attract potential buyers.
Picking the best kind of roof shingles

Since 1938, Owens Corning has dominated the roofing and insulation industry, making all of us at Stockmohr proud to be an Owens Corning Roofing Platinum Contractor. TruDefinition® Duration® shingles by Owens Corning are an excellent choice for a new roof! Not only are they industry-leading shingles, the patented SureNail® Technology gives Owens Corning shingles outstanding gripping power. Not only that, they provide exceptional wind and algae resistance to prevent a withering appearance over the years. So, when the severe winter weather begins in Western New York, the only thing going somewhere will be you on vacation, not your shingles!
Big decisions are easier to make with a little help from a professional! If you're ready for a new roof and want help with a color, style or just general questions about a roof replacement, give us a call today! You'll be glad you did.