Owens Corning® TruDefinition® Duration® Shingles
Stockmohr is an Owens Corning Roofing Platinum Contractor. As a member of the top tier of premier roofing professionals we have met Owens Corning's high standards and strict eligibility requirements. Our shingles are sure to bring beauty to your home, and peace of mind in the knowledge that your home is protected.
TruDefinition® Duration® shingles feature Patented SureNail® Technology, which provides outstanding gripping power. TruDefinition® Duration® shingles also provide you with exceptional wind and algae resistance, helping to keep your roof looking great for years to come. We offer TruDefinition® Duration® shingles in a wide array of color, ensuring that we'll have something to perfectly match your home.
Learn More About SureNail® Technology
Tested to be tough, proven to perform and the breakthrough design provides truly outstanding gripping power. Learn more.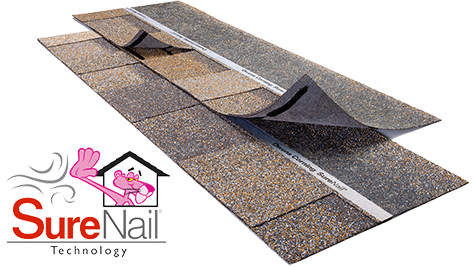 Roofing Warranties
At Stockmohr, we know your roof serves as a barrier against snow, hail, rain, ice, branches, and other debris. That is why we are proud to offer the Owens Corning® Platinum Protection roofing warranty. Learn more.