Buffalonians are among the few people lucky enough to experience all four seasons throughout the year. On the downside, winter can have long-lasting damage on houses, leaving homeowners with extra bills and more headaches than those in other parts of the country. It's important to have good, solid siding for your house to protect against harsh winter weather conditions, which is why we recommend CraneBoard Solid Core Siding.
The Best Siding for Cold Weather
CraneBoard Solid Core Siding will keep your home warm all year round. This innovative thermal resistance siding has low-maintenance technology for extreme durability—perfect for any home in the northeast. Its industry leading insulation will keep your house warm in extremely cold temperatures, with more powerful insulation than wood, engineered wood, brick or fiber cement. It also holds up better than traditional vinyl siding, which can be known to crack in extremely low temperatures.
CraneBoard is long-lasting with proven durability, able to withstand winds of up to 160 mph. The siding will not experience warping, sagging or buckling and requires virtually no maintenance. CraneBoard's specially engineered technology also eliminates the need for painting and staining.
CraneBoard Can Save You Money While Saving the Environment
Efficiency is the name of the game. CraneBoard Solid Core Siding is designed to drastically reduce thermal bridging, which occurs in your home when heat and energy escape through the studs of your walls. The design technology cuts down on the loss of heat and energy from your home, which will help improve cost efficiency. Neopor® insulation provides almost 20 percent better R-value than standard foam insulation and has Smart Track™ system with moisture management ridges to improve water evacuation.
CraneBoard is also environmentally friendly. It rivals cedar in overall green performance and has half of the environmental impact of fiber cement. Not only is the siding manufactured from recycled materials, but almost all scrap materials are recycled during production. In addition, no hazardous chemicals or gases are emitted when it is cut for installation.
All Color Options Feature Chromatix™ Technology Color Protection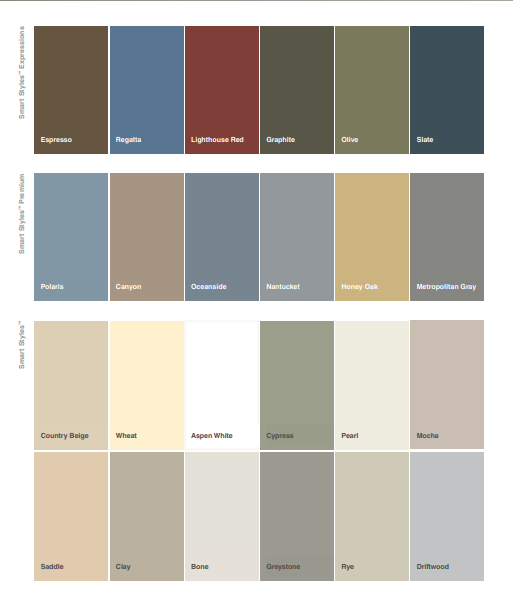 The challenging Buffalo winters are a good reason to have siding that will keep its aesthetic appeal for a lifetime. Chromatix technology color protection features infrared-reflecting pigments to reduce heat build-up. These siding pigments are fashioned to resist fade and fend off outdoor elements, backed with a Life of the Home Limited Warranty.
Wrapped in powerful curb appeal, your home will never look better. Whether you're going for a contemporary look or a more traditional look, CraneBoard gives you the flexibility of customization. Several color choices are available to give your home the style you want. From Espresso to Honey Oak; Lighthouse Red to Nantucket, the wide range of choices will be the finishing touch that turns your house into a home.
CraneBoard Solid Core Siding is the perfect layer of protection for any house. Its combination of looks and durability make it the optimal choice of siding for a home that sees all four seasons, especially if that includes the potential for harsh winters. Read the product brochure to find a color and style that's right for you, and contact us to replace your siding today.