Front doors play an important role in our everyday lives and like most things, they have a lifespan. With vital features like security and energy efficiency, an entry door can make a huge difference in a home's functionality and appeal.
A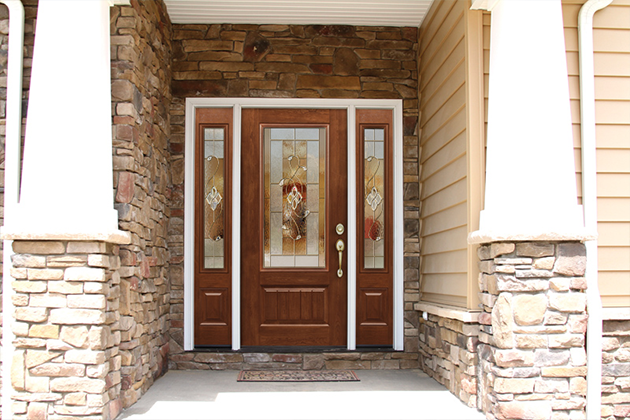 s a homeowner, it's normal to want everything to work properly. If you're starting to doubt your entry door, check for the following problems to see if you may be in need of a new entryway:
Signs it's time for a new entry door

Drafts and high energy bills

Drafty doors are a huge sign that you're in need of a new front door. A quality door will provide sufficient insulation and help keep your energy bills where they should be. If your house gets colder at night or you can feel a draft coming from your front door, it likely is aged and needs to be replaced. A new fiberglass door will help prevent unwanted airflow and keep your home at the temperature you want it to be.
Noisy, squeaky hinges

Do you hear your door every time it opens and closes? If your door is so noisy that you use a different door when company comes over -- it may be time for a new door. Aside from being embarrassed by the noise, worn hinges usually mean a door can be easily forced open. To protect your family and home, have your door at least inspected to make sure it is doing its job of providing security.
Visible damage or cracks

A cracked front door can be a sign that your door has become structurally weak, which poses another safety concern. A damaged door is not a secure door! Cracks also serve as an entryway for pests. If you find an abundance of ants or insects in your home, make sure they aren't coming through openings in the structure of your entry door.
Scratches on the floor

If your door scrapes the ground when it's used it can do a lot of damage over time. Instead of replacing your floor, get your door replaced! An older door can warp or sag which is what will cause it to scratch the floor if it goes unfixed.
What benefits to expect from a new entry door
Value

Remodeling 2017 Cost Vs. Value Report states that a fiberglass entry door replacement cost recoup is 75 percent of the cost, and a steel door is 80 percent of the cost. If you are planning on selling your home at some point, a new entry door offers a lot more than looking great. Whether you plan to sell or not, a new entry door brings a whole new appeal to your home as an investment you can feel good about.
Security

Safety can't be overlooked; a worn, old door can be easily broken in to. A quality entry door provides a sturdy defense for the primary entryway of your home. Stockmohr offers ProVia's 20 gauge steel doors that have 49% more steel than a standard 24-gauge door for unparalleled security.
Energy efficiency
Lower energy bills are something any homeowner can get behind. You wouldn't think your entry door is causing unwanted airflow but it certainly may be! Replacing a drafty door with an insulated door will make a noticeable difference in heating and cooling bills. For the homeowner who doesn't plan to sell their home, improved energy efficiency is a great benefit to having a new front door installed.
Western New York's Door Experts

Our team at Stockmohr has been working on entry doors for a long time, which is why we offer industry leaders like ProVia whose performance we can count on. If you think your entry door is in need of an inspection -- give us a call! We are happy to provide in an in-home estimate on getting your home set up with a brand new door for your entryway that you can feel good about.