Who doesn't want new windows for spring and summer? Selecting the right window model for a replacement project is made easy with a quick breakdown of the most common types we install for Western New York homeowners. Whether you want to brighten up an entire room or switch to a more energy efficient brand, selecting the right type of window is your first step.
Double-Hung Windows

One of the most popular choices, double-hung windows are a classic choice for your home. Double-hung windows have two sashes that slide vertically up and down in the frame; they can open wide from the top or bottom, but remain inside the frame so they don't stick out.
Pleasing to look at and energy efficient, double hung windows serve as a functional, attractive solution for new windows. Not only are they beautiful, but they're also super easy to clean! Both sashes tilt in to allow cleaning right from inside your home (no ladders necessary)!
Key features of double hung windows include:
High-performance insulated glass unit with double-strength glass and warm-edge spacer system
Integrated construction provides insulating air spaces, which increase energy efficiency and durability
Sash-to-sill nested interlock increases strength to prevent bowing in extreme winds
Sloped sill drains allow for water to be transported quickly to the exterior to help prevent moisture build up
Duralift block and tackle balance system ensures years of easy and smooth operation of the sashes

Casement & Awning Windows

Selected by homeowners looking for an elegant but modern look, casement and awning windows are a beautiful option. Hinged at the top or side, casement and awning windows open outward to let in air. These models can be installed above, below, or alongside a window. Casement and awning windows operate by the turn of a crank in an operating mechanism; they can be hinged on the left or the right to open outward.
A stylish and convenient window option, casement & awning windows offer a variety of benefits:
Exterior sash provides an attractive finish while simultaneously creating the appearance of a larger window
During inclement weather, windows will remain tightly sealed due to the step-down frame and compression-type inner bulb
Multi-directional ventilation is available through a precision hinge system, which allows the sash to be cleaned from the inside
Multiple lite configurations are also available in a single mainframe
Bow & Bay Windows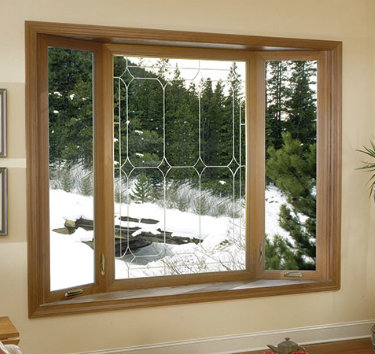 Sometimes more space is what you want, and bay or bow windows will give you just that. Bow & bay windows are a combination of windows often with a stationary window in the middle, generally flanked by double-hung windows or casements. Since they protrude out from the exterior of the siding of the house, they provide more interior space. Quality and detail are two callouts for these models. By adding a deeper dimension to the inside of your home, they truly enrich the entire space.
Bow & Bay Window Features Include:
Head and seat boards are available in oak or birch veneers and are also offered with a prefinished interior laminate
3-inch pre-insulated seatboard options increase energy savings
Customize your window with a variety of finishes and colors
Exterior roof options available

Picture Windows & Special Shapes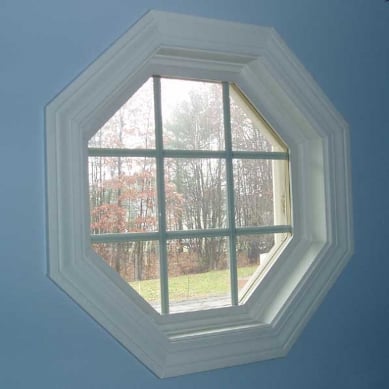 Giving your home a custom, special touch is simple with picture windows and special architectural shapes. Picture windows are typically a large stationary window that brings in the maximum amount of light. This model is perfect for creating a dramatic focal point with timeless style. If you're looking to really brighten and open up a room, picture windows are an excellent option! If you want something original, try a special shape.
Picture windows & special shapes offer captivating beauty with weather-tight protection, with features that include:
An insulated unit with double-strength glass
A warm-edge spacer system, which provides thermal protection and longevity
Narrowline frame features fusion-welded corners for enhanced style, strength, and energy efficiency
Multi-chambered construction, which creates airtight compartments

Your One-stop Shop For Windows

With a variety of brands and models to choose from, Stockmohr is your go-to for window replacement! With more than 15,000 windows installed in Western New York homes, we are prepared to tackle whatever your window needs may be! Need help deciding on the right model? Contact us today!