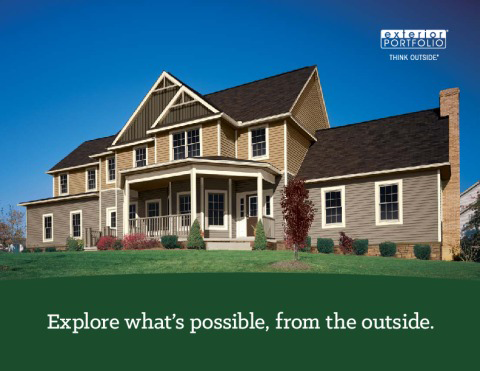 Vinyl siding is the most widely-used exterior for new homes in the United States. With such a need for vinyl siding, the market is broad and full of options for homeowners and builders alike. As professionals in the industry that our customers turn to for advice, we know the products we recommend and use represent us just as much as our work. When it comes to vinyl siding, Royal Building Products' Exterior Portfolio Siding is an easy choice.
Siding Backed By A Global Leader in Manufacturing

Royal Building Products is supported by Westlake Chemical, an industry-leading Fortune 500 company with a strong commitment to innovation. Paired with their parent company's raw materials, Royal's finished products lead the market with an investment in quality.
Creating products using a "lead with design" approach, Royal Building Products' siding is authentic and contemporary, with a style for every home and building. Innovative manufacturing offers more than appearance with a product standard for superior resins, UV resistance and IR-reflective pigments offering the ultimate performance. It doesn't matter which way you look at it, vinyl siding like Royal's Exterior Portfolio Siding doesn't have a bad side to it!
Premium, Signature, or Classic Collection?

Options are always nice. While vinyl siding has great benefits like low cost and easy installation, selecting the style and features of the product can be half the fun! Exterior Portfolio Siding has three collections, each with their own appeal: Premium, Signature, and Classic.
For a more textured look with rich color options, the Premium Collection has CraneBoard® Solid CoRe Siding® and Portsmouth™ Shake & Shingles to give your home a sense of individuality. Choose from deep rustic grain patterns and more with superior impact resistance to preserve the siding's appearance.
Stockmohr is happy to offer three options from the Signature Collection: Premium Pointe®, Board & Batten, and Market Square®. For homeowners searching for a traditional look with industry-leading features, any of these options are a great selection!
The Classic Collection includes Parkview ® that is smartly engineered with a rollover nailing hem for enhanced durability and wind resistance--great for homeowners in any climate.
Western New York's Only Platinum VSI Certified Installer

Your home deserves the best… which is why when you decide to update your home's siding, you should choose a VSI Certified Installer! Stockmohr is Western New York's only Platinum VSI Certified Installer, which means you can expect an expert installation every time. With this certification, each of our installers will:
Correctly fasten siding to allow for vinyl's normal expansion and contraction properties
Keep vinyl siding straight and secure on walls
Properly prepare areas around doors, windows, and other openings to prevent water infiltration
We're serious about getting the job done right the first time. If you're looking to get started on siding for your home or building--Stockmohr people make the difference!