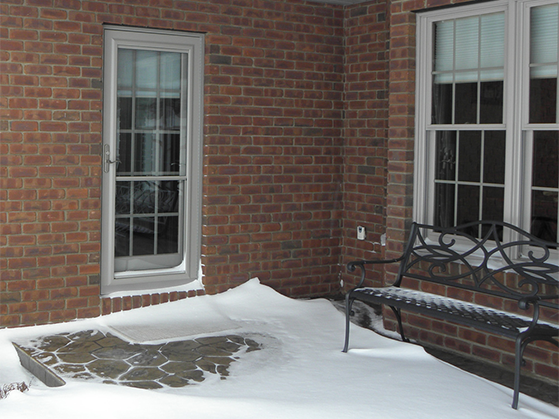 When you live in a tough climate like Western New York, the exterior of your home tends to go through a lot. After all, it's protecting what's inside, right? One of the components of your home that experiences some serious, well, weathering, is the storm door. Whether it's from extreme weather or accidental damage, storm doors go through a lot in their mission to protect your entry door and home. While you may be itching to replace an old, dented aluminum storm door after a bad storm, don't make a hasty decision! There are a few things to consider before deciding on what type of storm door you should purchase.
Choosing the right storm door

There are three main factors to help determine the best quality storm door for your home. First, you want to consider the aluminum thickness. How durable is the material? Is it going to dent at the first sign of hail? Hopefully not. The construction of the storm doors itself is very important to its performance. Is the door built with tempered safety glass? Another important factor is the paint finish. Is there a warranty for the finish? Is it hard to maintain? These are all questions to ask when searching for the perfect storm door for your home. While you want the door model to be durable and do its job, you still want your entryway to look as attractive as possible!
Custom ProVia screen and storm doors that fit every home

So, how do you decide on a brand once you know what features to look for? Well, at Stockmohr, we like to cut out all the customer guesswork by offering only the best brands in the industry for home improvement projects. ProVia's aluminum storm doors, for example, are 20 percent thicker than the industry standard making them an excellent choice for an entryway in need of a little extra protection. The extra thickness provides greater strength and less risk of denting than a standard aluminum door.
While increased aluminum thickness and an industry-leading door construction make ProVia an easy choice, there are also 54 ProVia aluminum storm door options to choose from! So, designing a custom storm door for your home becomes a fun experience! A unique proprietary paint process ensures a scratch- and fade-resistant model for all ProVia storm doors, allowing for a Lifetime Finish Warranty. You know the paint finish will look brand new for years to come when ProVia is backing it up!
Taking the time to select the perfect storm door
Storm doors are one of the first things people see when they visit your home, so, it makes sense that homeowners are quick to replace them when they're damaged; however, an aluminum storm door is a purchase that you likely won't have to make very often, so take the time to consider the best option for your home. Even if you know what features to expect, you may want a second opinion on the style and look of the door--and we've got your back! At Stockmohr, we've been installing storm doors for over 50 years and can share our thoughts on what will work (and look) best!