Kenmore Window Replacement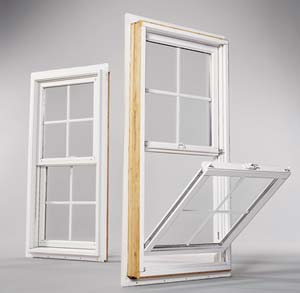 When your home needs new windows, there are a lot of things to consider. From the style and design of the window to the installation process, there are several parts of getting your windows installed properly. After everything is done, you will want to have selected windows that bring a high return on investment.
When Should You Replace Windows?
Compared to broken windows that need immediate attention, other window problems may seem to be manageable. However, though a little draft or more sunlight let into your home may not seem to really be discomforting, these conditions can add up to large energy costs over the course of a year. Energy efficient window models can yield significant savings, eliminating unwanted drafts and decreasing the amount of heat entering your home. This can help your air conditioning and heating systems from overworking, saving you even more energy.
Another major reason to change windows is if they are worn down and cannot be restored. Ugly windows have a negative effect on your home's value, which means getting new, stylish ones will help you if you're thinking of selling your home anytime in the future.
Types of Windows
At StockMohr, we carry a variety of windows that can be customized to fit your home. Built with insulated glass, our windows filter excess sunlight to keep your home at a comfortable temperature. Additionally, our windows are layered with a variety of durable materials including vinyl and aluminum trims that require minimal maintenance. Lastly, with our professional installation, your new windows will be added without damaging the rest of your home and remain secured and easy to operate throughout their lifetimes.
Contact StockMohr Today
Having performed over 15,000 window replacements around Kenmore, StockMohr's team of experienced professionals will handle your window installation with ease. You can visit our showroom to look at our latest selection of windows or call our team to schedule a professional visit to your home. We look forward to helping you choose beautiful windows for your home!