Niagara Falls Window Installation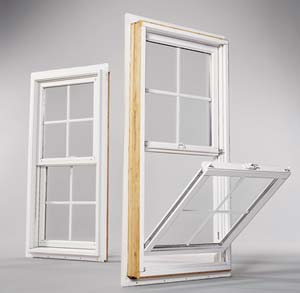 If you're doing some home remodeling and you're now considering the replacement of your home's existing windows, StockMohr wants to help you with your Niagara Falls window replacement. StockMohr has been replacing windows for residents of Western New York for over 30 years and has all of your replacement window installation needs covered. Replacing the windows of your home is a smart choice if your home's windows are outdated.
With outdated windows your heat is likely going "out the windows" during the winter. When the heat goes out the windows, you're not only losing money, but you're losing heat, which means your home is more than likely on the chilly side when it's cold. With new windows you'll eliminate drafts and seal in your home's heat, which equals saving money on energy bills and feeling comfy on those cold winter days.
StockMohr's Niagara Falls Window Replacement Options
When you replace your home's windows, these are your window replacement options with StockMohr:
Wood Replacement Windows: Wood replacement windows tend to cost a bit more compared to other window types and they require a lot of future maintenance, but they sure are beautiful to look at.
Vinyl Clad Replacement Windows: This type of window is ideal for the homeowner who wants wood windows but doesn't want the future maintenance hassle. Vinyl clad windows are also weather resistant and lower in cost compared to wood.
Fiber Glass Replacement Windows: The fiber glass window is highly-flexible and customizable. When ordering your new fiber glass windows you can have your windows painted in any color that you'd like. They're not as durable as vinyl, but they are a bit more weather resistant when compared to wood.
Aluminum Replacement Windows: These windows are completely cost-effective and are wonderful for anyone interested in a window that can withstand the elements while saving money.
If you'd like to learn more about Niagara Falls window installation, contact the experts of StockMohr today!