Orchard Park, NY Doors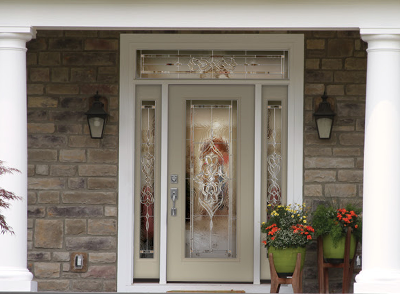 Your front door is the first thing visitors see when they come to your home. Installing custom doors a great way to show off your unique style and add structural integrity to your home. Many homeowners get custom doors to enhance the exterior beauty of their homes. The good news is that custom doors are available in a wide variety of shapes, sizes, colors, and textures.
When shopping for new custom doors, homeowners can incorporate their favorite wood or glass accents into the design. Choosing the colors and textures that match your exterior decor and accent your landscaping also beautifies the exterior of your home.
Benefits of Custom Doors for Homeowners
Some of the benefits from installing custom doors include natural weatherproofing and increased energy efficiency. Steel and fiberglass doors help homeowners maintain a comfortable temperature inside their homes. Financial benefits can include a reduction in annual utility costs. Today's doors aren't just functional, they are also durable and offer gorgeous accents like decorative glass.
Custom Doors Available for Homeowners
Front Entry Doors

Rear Entry Doors

Storm Doors
Custom Door Specialists in Orchard Park
Stockmohr has a wide selection of front entry door options available and offers a free -in home estimate for custom doors. Homeowners who install high-quality entry doors experience fewer issues with weatherization as doorway shrinkage, warped doorways, and chipping paint. ProVia steel and fiberglass doors address these issues in style.
Stockmohr currently has the following three ProVia entry door models in stock.
Signet Fiberglass

Heritage

Fiberglass and Legacy Steel
Buying new custom doors doesn't have to be complicated. Work with a custom door specialist to learn about custom door heights, finishes, custom door hinge systems, and fiberglass options. Residents in Western New York can reach out to a custom door specialist at Stockmohr Remodeling. Get a free in-home estimate for custom doors when you contact Stockmohr online. Talk to a door specialist to learn more about custom door options that meet your needs. Stockmohr services Western New York and surrounding areas.
Click here to learn more about available door options for your Orchard Park home.