Wheatfield Replacement Windows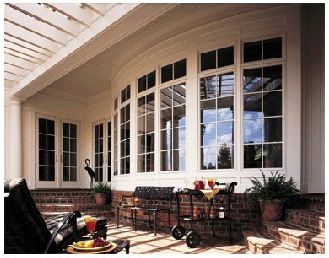 There are numerous reasons to replace your old windows. From reducing the financial impact of heating and cooling to adding aesthetic value to your home, windows can make a big difference! There are countless designs and types of windows to choose from, but our team is highly knowledgeable and ready to help you make the best decision.
Types of Window Materials
One of the quickest ways to decide on your home's windows can be by choosing the type of material. Each material comes with its own set of benefits and with modern construction innovations, there are plenty of options for designing each material to fit the style of your choice.
Wood Replacement Windows
A classic material used to construct many things, wood portrays a rich character. However, wooden windows must be treated well with scheduled maintenance, as weather can place a great amount of wear and tear on these windows. These windows may need to be stained and painted over to seal the wood from damaging moisture.
Clad Replacement Windows
While wood windows offer little resistance to the elements, other materials can be added to seal the wood. These types of windows are called clad windows and may consist of aluminum, vinyl and fiberglass coverings. Clad windows still offer the same physical appeal as wood windows, but they also prove to hold up well against heavy rains and snow around Wheatfield. Clad windows provide a sensible alternative to wood windows for owners more concerned with the long-term health of their windows.
Fiberglass Replacement Windows
For those looking for a high amount of flexibility in terms of colors and style, fiberglass windows are a good alternative. This window material is also very affordable compared to other types. Fiberglass windows can also be painted in different colors, giving much more flexibility for homeowners to consider. The fiberglass material will not wear or split the same way that a wood or vinyl window may under similar circumstances, making this material a great choice for your home in all types of weather.
Contact Our Team Today
There may be a lot to think about when it comes to choosing new windows for your home. To learn about our full selection of windows, please contact our team today! We are ready to help you find the perfect windows for your home in Wheatfield today!