SureNail® Technology
There's a fine line between a good shingle and a great shingle.
All TruDefinition® Duration® Series Shingles come with the added benefits of patented SureNail® Technology; a breakthrough design that adds toughness and durability into every shingle, due to the unique fabric strip in the nailing area. The SureNail® grip helps deliver 130-MPH wind warranty.
The SureNail® Advantage
Your home deserves the best. SureNail® is one of the most effective ways to keep your home energy-efficient and provide maximum protection. If you live in an area that experiences severe weather conditions, using Duration® Series Shingles is like placing a force field above your home. The patented SureNail® technology is the first and only reinforced nailing zone on the face of a shingle.
Typical shingles can be damaged by high wind, but SureNail® technology guards your home with triple layer protection. A unique reinforcement occurs when the fabric overlays with the two Duration® Series Shingles that allows for increased protection against nail pull from the wind. Duration® Series Shingles feature a "No Guess" wide nailing zone that is tough, easy-to-see, and durable. Duration® Series Shingles with SureNail® technology are the essential choice for the roof of your home!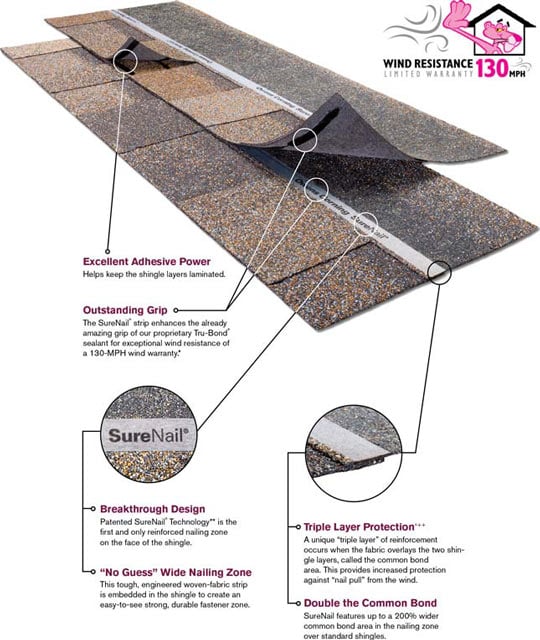 SureNail® Key Features
Patented SureNail Technology — Only from Owens Corning
Breakthrough Design — Creating a strong and durable nailing zone
Triple Layer Protection® — Increased protection against nail pull
Outstanding Grip — The SureNail® strip enhances the grip of our Tru-Bond® sealant.
Exceptional Wind Resistance — The SureNail® grip delivers 130-MPH wind warranty
Lab Tests
Watch the simulated nail-pull demonstrations to show Duration® Series shingles with SureNail® technology versus the competitor's shingles. Pay close attention to the shingle's ability to stay on the deck when high force is trying to pull it off.