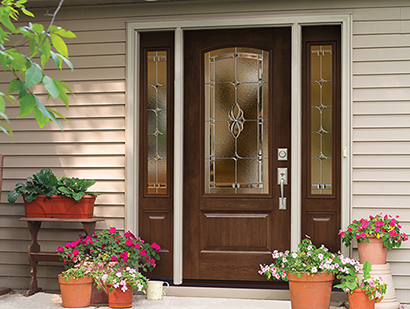 There are many ways to spruce up your home during fall and winter to counter gloomy weather. Your lawn may be losing its healthy green tone and things are starting to look gray, but, one way to add color to your home all year-round is with "stained glass" or decorative glass entry doors. When you think of replacement windows or entry doors, you likely think about the finishes and framing, but the glass can be just as eye-catching! We are proud to offer an industry leader like ProVia to our customers looking to add decorative glass to their entryway, so we decided to share some information about their glass options:
Stepping up your entryway with decorative glass
Incorporating your own sense of creativity and style into your home is one of the best parts about being a homeowner. Custom decorative glass for doors and windows offers an excellent accent to your home that improves its curb appeal. ProVia's hand-made glass designs come in two types: Inspirations Art Glass and Decorative Glass.
Inspirations Art Glass designs come in 11 different options with five color palettes to choose from. The designs come from hand-drawn sketches done by an in-house team of artists at ProVia. After the design phase, the glass goes through resin bead application and then hand-applied color fills; the resin bead and color fill of the glass are also backed by a Lifetime Limited Warranty from ProVia to ensure your colorful entryway isn't subjected to fading, blistering or peeling. Inspirations Art Glass designs are able to be added to ProVia entry doors and replacement windows. With customized decorative glass created and protected by ProVia, then installed by Stockmohr experts, you'll have a beautiful entryway for years to come.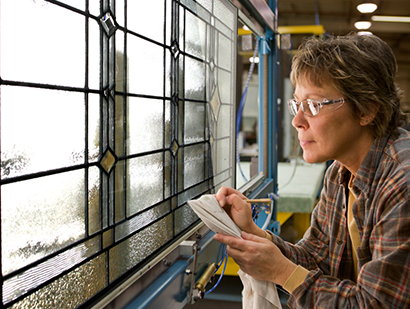 ProVia's Decorative Glass series is available for entry doors and includes a lot of benefits to be excited about. Not only are there 23 handmade designs of glass to pair with your entry door, but each piece of glass also has ProVia's ComforTech™ Warm Edge Glazing System and an optional impact shield. These features make the glass more durable and increase its energy efficiency by working to improve thermal performance. ProVia also offers a Lifetime Limited Warranty that protects from glass breakage and seal failure. When it's time for a new entry door, you have a wealth of options to customize and feel good about!
Interested in complementing your new entryway door with decorative glass?
ProVia's skilled craftsmen prepare decorative glass and inspect every piece for consistency. At Stockmohr, we hold ourselves to the same level of precision. It takes an experienced technician to install decorative glass, which is where we come in! Our goal is to help you throughout the entire process of your new entryway and making sure it's exactly how you imagined. Contact us today to get started with a free in-home estimate!