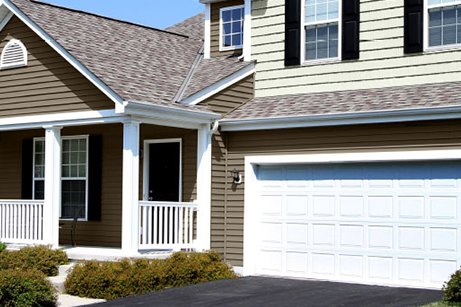 We expect a lot from our gutters as homeowners in Western New York. With heavy snow, rain, ice, and wind taking its toll on the exterior of our homes, gutters support a lot of weight on their own. What helps our gutters stay in place and function properly? Hangers also called fasteners, help secure gutters to your home. When Buffalo is hit with extreme weather (which seems to be happening a lot lately), strong hangers are what will keep your gutters intact.
Gutter hangers come in a few different styles with a popular choice being hidden hangers. Clipped under the front gutter hem and screwed through the back of the gutter and into the home, it's easy to see why hidden hangers are popular. While you want your gutters to be sturdy and functional, who says they need to be visible? If you want durability without sacrificing the aesthetic of your home, hidden hangers are a great choice!
At Stockmohr, we use the strongest hidden hanger with a screw on the market! Hangfast® Hidden Gutter Hangers are an industry-leading choice for the homeowner in need of a strong, but subtle, gutter solution; these gutter hangers are designed to withstand heavy snow, ice buildup, and high winds! For the Buffalo homeowner, you can't have too much support when it comes to inclement weather.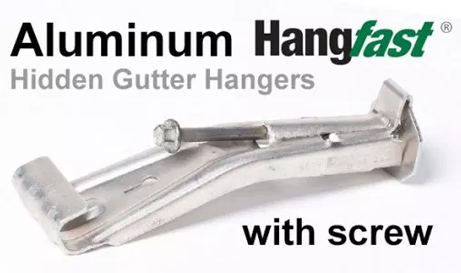 Hangfast® Hidden Gutter Hangers have an innovative design for fast and easy installation. Made from the correct quality alloy to produce the strongest hanger, weak hidden hangers are no longer an issue. Before Hangfast® came onto the market, many hidden hangers were a two-piece design that incorporated a screw. Nothing has imitated the quality of Hangfast®!
For over 35 years, Stockmohr experts have been replacing gutter systems for homeowners in the region. Giving the best gutter service possible is what kept us going for such a long time, and we don't plan on stopping. By offering our customers a quality hidden hanger option for gutters, we know their homes will be well supported while looking their absolute best.
Whether you need hidden hangers, gutter covers, or a whole new gutter system, we've got your back. The function of your gutters is vital to the well being of your home! By preventing water damage and other serious home problems, gutters work hard to keep things like snow and debris where it belongs (away from your home). Contact Stockmohr today for any questions about hidden gutter hangers for your home!