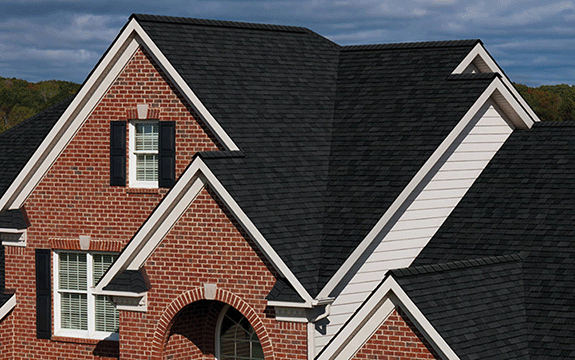 Not all storms are the same, but what they have in common is the potential to damage your home. Even if a storm doesn't bring severe rain or hail, your roof may suffer from wind damage. Heavy winds can create stress on a roof that will cause it to weaken and become compromised over time. Of course, roofs are designed to be durable and withstand inclement weather; however, over the years, a roof can become damaged by high winds and debris.
It's important to fix your roof to prevent water damage and higher energy bills that result from a roof system not functioning properly. Before you call in a professional to help with roof damage, you'll need to assess the situation yourself.
Perform an exterior inspection

The first indication you'll be able to spot on your own is missing or damaged shingles on your roof or property. Damaged shingles can be curled, cracked, or torn. If you find this type of damage and it covers only part of the roof, it's likely that roofing repairs can solve the problem. More excessive damage, however, may require a full roof replacement.
Because roofs are a whole system, other pieces can be damaged by wind too; the chimney, ventilation pipes, roof flashing, gutters, and fencing all have the potential to be disrupted.
If you think your roof may be damaged, you'll want to look for:
Curling, broken, damaged, or missing shingles
Wood shingles/shakes that are splitting or curling
Patches, cracks, or tears in the roof
Flashing tearing around roof penetrations
Excessive crumbling roofing cement
Gutters with leaky seams or loose attachments
Leaning or loose chimney flashing
Perform an interior inspection

Checking the inside of your home for wind damage can often be as important as the exterior. While you likely won't find any damaged shingles flying around the inside of your home, you may find a different kind of damage.
When your roof is compromised, the risk of water damage increases as the problem persists. Water damage will show up in the form of water spots, discoloration, or changes in wall/ceiling texture. A leak in your ceiling can indicate storm damage and a problem you'll want to fix ASAP!
What to do if you have wind damage

Roof damage will only worsen as time goes on. To avoid the risk of water damage and having to replace your entire roof, call a professional! It's possible that your homeowner's insurance policy covers wind damage with a deductible, but you'll want to contact your insurance agent to know for sure. When it comes to choosing a roofing professional to fix your roof, make sure they are a trusted company that will get the job done right.
For a roofing company that gets the job done right the first time, every time, contact Stockmohr today!