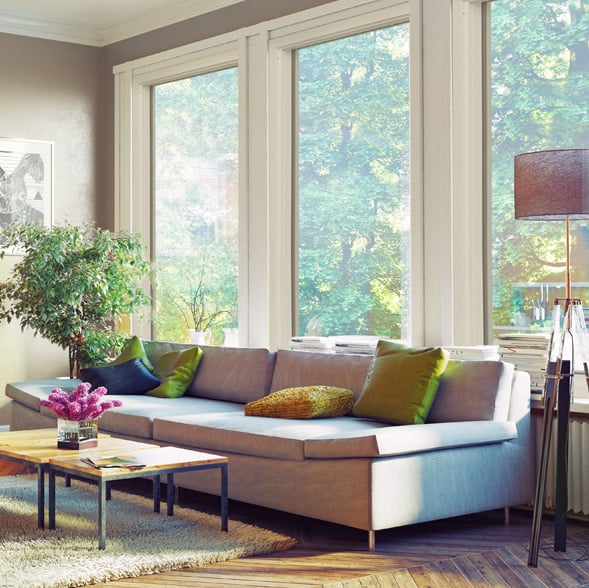 When your smoke detector stops working, you don't think much about what to replace it with; however, when the windows in your home need to be replaced, thoughtful consideration is key. It can seem overwhelming to choose new windows with all the styles, materials, features and benefits available. Replacement windows are not a DIY job and finding an experienced installer is half of the work, but you still need to select what window options are best for your home. Here are some helpful tips:
Know your climate zone

Where you live has a major impact on the type of windows you select for your home. It's important to identify the climate zone you live in to decipher what type of windows your home should have. For example, if you live in Western New York, like us, you live in the Northern Climate Zone. Windows in this region must have a U-factor greater than or equal to 0.27 to earn energy star performance rating. Your project estimator can help explain more on energy star guidelines.. U-factor measures the rate of heat transfer and tells you how well the window insulates. Another factor to pay attention to is SHGC, or Solar Heat Gain Coefficient, which represents the amount of heat from the sun that travels through the glass.
If you're a Buffalonian, you can understand the importance of installing new windows that will keep your home comfortable all year-round. While terms like U-factor and SHGC may seem like industry jargon, you'll want windows that meet the recommended efficiency for your area.
Do some research

The next step you can take is to look at window specs from manufacturer websites and compare them to what is needed for your climate zone. Look at the features and benefits of each option. Will it provide your home with comfort and energy bill savings? Don't be afraid to branch out and get windows with a new look--you're replacing them for a reason!
Go for energy efficiency

Not all windows are made the same. When you live in a cold climate like Western New York, you'll probably want ENERGY STAR certified windows. Not only are certified windows tested to meet strict standards, but they are also proven to be the most qualified and energy efficient option for every home.
Stockmohr offers the best in the industry to our customers searching for replacement windows. We've installed over 15,000 windows into Western New York homes, so we know what brands will provide our clients with just what they need (and want)! We are pleased to offer a variety of window options including, Revere, Pollard, and ProVia's Endure Vinyl Windows for the ultimate energy efficient performance with stunning beauty. By offering these industry leaders like ProVia, Revere, and Pollard, we know that with our installation and their product, our clients will be satisfied every time.
A proper installation

While it may be important to educate yourself, don't worry about being a window expert--that's our job! Of course, with a project like window replacement, you'll want to find the right contractor. Look at Google, Facebook, your local building department, and Better Business Bureau reviews about local contractors to see if they check out. An experienced contractor should also be able to provide a few names and addresses of recently completed work for you to review. To ensure proper performance, your replacement windows need to be installed correctly. Once you decide on a reputable and licensed dealer, you are on your way to enjoying the value and comfortability of new replacement windows!
Interested in replacement windows for your home? We can help! Contact Stockmohr today for a free in-home estimate to answer any of your questions.