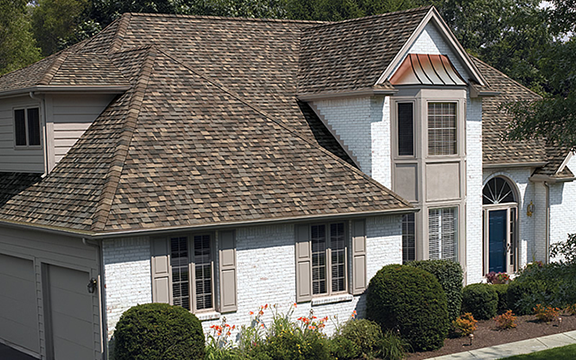 If you're a Buffalo homeowner, you're likely familiar with the weather wreaking havoc on the exterior of your home. It's our job as contractors, it's important for us to recommend and use materials that we know will not only withstand the tough climate but look great while doing it. Owens Corning is an industry leader in roofing and their TruDefinition® Duration® shingles are our go-to product for roofing projects. Stockmohr is the largest user of their innovative shingle technology in Western New York and the longest certified installer of the product in the area! Here's why:
SureNail® Technology

"The difference between a good shingle and a great shingle is having SureNail Technology." Owens Corning doesn't play around when it comes to performance. The patented SureNail technology is the first and only reinforced nailing zone on the face of a shingle. TruDefinition Duration shingles feature this technology, which provides unmatched gripping power. That means, when winter and heavy winds come, your shingles aren't going anywhere.
Thanks to a unique, tough-engineered fabric strip in the nailing area of the shingle, the fastener zone is unbelievably durable; this breakthrough design ensures each shingle is strong and functional. Outstanding grip isn't the only feature of this technology, exceptional wind resistance helps deliver a 130-MPH warranty performance with fewer nails required by most competitors. Duration shingles are sure to bring beauty to your home, and peace of mind in the knowledge that your home is protected.
Warranty 101

At Stockmohr, we know your roof protects your home from snow, wind, hail, rain, ice, branches--you name it. Owens Corning offers a Platinum Protection roofing warranty for each of their shingles products that you can take advantage of in the event your roof requires maintenance or repairs. Roofing projects are an important investment, having a warranty to back it up allows for peace of mind throughout the process.
Owens Corning Roofing Platinum Contractor

As a member of the top tier of premier roofing professionals, we have met Owens Corning's high standards and strict eligibility requirements. Since 1938, Owens Corning has been the "cornerstone" of roofing and insulation. With that being said, it's no surprise that Stockmohr uses America's #1 shingle brand!
If you're gearing up for a roofing project this summer, Owens Corning Duration shingles are an excellent option for durability, without sacrificing curb appeal. Choose from bold colors with deep dimension to stylize the roof you've always imagined. Ready to schedule a free in-home estimate for your new roof? Contact Stockmohr today to get started with one of our experts!