You want the best for your home and so do we! At Stockmohr, we take pride in the quality of our work. To get the job done right the first time, every time, we rely on top industry brands and products. When it comes to replacement windows for your home, Revere Building Products by Associated Materials is an excellent option to keep in mind. Not only are they backed by 40 years of manufacturing expertise, but each window is also performance-engineered for industry-leading beauty, durability, and energy efficiency. Whether you're looking for a double hung or bay window model, there a lot of features you can expect to enjoy.
Revere Vinyl Replacement Windows

To get a closer look at their models backed by decades of manufacturing and craftsmanship, here are Revere's three high-performance options for replacement windows:
Sovereign Vinyl Windows
Want to reduce annual energy costs while beautifying the appearance of your home? Well, you can! Sovereign Vinyl Windows have the ideal combination of classic style and enduring strength. Revere reports that when you compare Sovereign's powerfully built construction with other vinyl windows, you'll actually feel the difference in your home. So, what can you expect in addition to outstanding thermal efficiency and beauty?
Features include:
Fusion-welded sash and mainframe provide superior strength and structural integrity, while neat, tight corners create enhanced aesthetic appeal
Heavy-duty metal fortifies the window and allows for secure mounting of hardware
Foam-enhanced sash and mainframe, airtight insulating chambers, triple-barrier fin seal weather stripping and the PPG Intercept® Warm-Edge Spacer System help block the transfer of heat and cold for superior energy savings
Compression bulb seal at the sill creates an all-season weather barrier
Enhanced sloped sill provides classic beauty, easy cleaning, and prevention of water accumulation
Berkshire Elite
Bring light into your home with Berkshire Elite's narrowline frame and sash that create a larger window space for some serious daylighting. This model is a standout option because of its thermally optimized construction and insulating glass unit providing your home with a weathertight shield, perfect for a frigid Buffalo winter.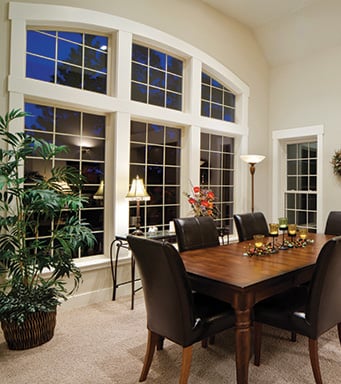 Features include:
BroadView™ Narrowline Frame and Sash The contemporary low-profile construction provides a greater glass area for exceptional daylighting, while embedded chambers increase energy efficiency, rigidity, and durability
Fortress™ Secure Locking System Fortress' positive end-of-throw cam shift locking action seals the sash tightly closed; the low-profile hardware features a "locked" indicator
CoreTec™ Composite Reinforcement This non-conductive composite reinforcement enhances thermal performance at the meeting rails and allows for secure mounting of hardware
Traverse™ Telescoping Sill The benefits here are threefold: increased structural stability, greater protection from air and water, and enhanced beauty
LinkSync™ Sash-to-Sill Interlock LinkSync nests the sash into the sill to create a wall of resistance that helps prevent the sash from bowing during extreme winds
Amherst Plus
Who doesn't love affordability? Amherst Plus windows are beautiful, energy efficient, and affordable! Designed for years of easy operation, this model will keep your home comfortable during every season. Even though this option is said to be the most affordable by Revere, that doesn't mean you have to sacrifice on performance. Amherst Plus windows have fusion-welded, multi-chambered main frames and sashes that provide long-lasting strength and durability.
Features include:
Quality-Crafted Beauty Premium vinyl sashes and main frame are colored through and through to ensure the beautiful luster lasts; won't chip, peel, crack or warp
Energy Efficient Design Multi-chambered sash and main frame provide insulating air spaces for increased thermal efficiency
Thermal Glass System PPG Intercept Warm-Edge Spacer System saves energy by reducing the conduction of heat at the edge of glass for advanced energy efficiency and longevity
Reinforced Construction Composite reinforced interlocking meeting rails enhance thermal performance
Sloped Sill Achieves classic beauty and prevents accumulation of water and debris
Windows for every home and every specification

Regardless of the model you choose, Revere Building Products' windows are an industry-leading option to add to your home. Installed by Stockmohr, your new windows are guaranteed to perform! Time to let the light in? Contact us today for any questions you may have about Revere window options for your home!