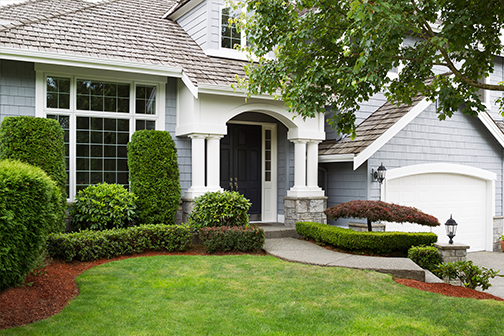 Keeping up with home maintenance can be bittersweet; you put in the hard work to reap the benefits of a comfortable, safe home. Now that we've successfully made it through all the snow, wind and hail in Western New York, it's the perfect time to treat your home how it should be treated. After a winter full of strong winds and excessive snow, the exterior of your home may have taken a beating. Landscaping is a great start to getting your property summer-ready, but what about your house? Give your home some extra attention this season by completing these home improvement projects:
Replace your siding

Siding works to keep our houses cool in the summer and warm in the winter, something we value a lot as homeowners in the ever-changing Buffalo weather. When exposed to high levels of heat or intense weather, siding can crack, chip or blister. To solve this, you want to replace the damaged siding with vinyl siding. Not only will vinyl siding keep your home well-insulated, it'll protect your home from damaging water and pests that find ways inside through cracks chips. The best part about replacing siding? There are a lot of color and style options to make it exciting! You can change the whole look of your home with a hot new siding color. At Stockmohr, we've been installing siding for a long time, so we make sure to only offer the best. We offer nine different types of ProVia siding with about 40 color options to choose from. If you're going to replace your siding this summer, why not customize it to give your home a fresh look?
Give your roof and gutters attention

Let's be real, this past winter was rough! Many homes in Western New York suffered wind damage. While it's best to leave inspecting your roof to a trained professional, you can search your property for missing trim or roof shingles; you can also check your attic for water damage to decipher if there is roof damage causing it. Summer is an ideal time to make roof repairs due to the weather being a little more welcoming than snow. Whether you want to switch up your roof and have it replaced, or just need it repaired, call a professional to inspect your roof and provide a quote for the work you want. You'll be glad you took care of it before the weather changes!
When is the last time you cleaned your gutters? While you're giving your home a mini summer makeover, check out your gutter situation. Ideally, you want to clean out your gutters every season. So, entering summer is a great time to do so! Stockmohr offers Leaf Relief® for homeowners looking to save time and energy this summer by covering their gutters! Leaf Relief® is the most effective gutter protection on the market and is backed by a 25-year no-clog manufacturer's warranty. You have a lot to manage as a homeowner, sometimes low maintenance is the way to go!
If you're looking to work on your siding, roof or gutters this summer, contact Stockmohr today for a free in-home estimate on your project!