Buffalo Cedar Impression Siding
The exterior of your home should be made from sturdy and durable materials since it is constantly exposed to outdoor elements such as wind, sun, rain and snow. But this doesn't mean that you have to stick to stark, boring materials just to achieve this. You can always combine style with function using sidings for your walls. One example of this is the cedar impressions siding offered by StockMohr Construction.

Cedar impressions siding gives your home a more natural wooden look. Perfect for corner posts, frieze boards, window casings and even gable trims, this cedar siding will surely add beauty to your home in a subtle way. There is only one place where you can get this extremely durable siding today and that is at StockMohr Home Contractors.
Buffalo Cedar Siding
The family-owned business has been in the home renovation industry for several decades and is one of the leading construction companies to be found in the market today. Here, you will find different cedar impressions siding designs, styles and colors at prices that are well within your budget. Imagine how much savings you will be getting when you hire StockMohr for your home siding needs.
There are different cedar impressions siding being offered by this company today and among these are Triple 5 Straight Edge Perfection, Double 7 Straight Edge Perfection, Double 7 Staggered Perfection, Double 7 Straight Edge Rough-Split, and Double 9 Staggard Rough-Split. If you are not sure which one is ideal for your home, you can always ask the professional at StockMohr for advice.
You are sure to find the right cedar impressions siding for your home especially when there are lots of options for you to choose from in this company. You don't even have to worry about getting your sidings installed properly since this is what StockMohr specializes in. Excellent service is what StockMohr is all about and with their years of experience to back them up, your home will be looking really good in no time at all.
Cedar Impression Siding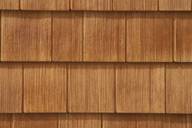 StockMohr supplies only quality sidings products to its customers including cedar impressions siding, so you don't have to look any further just to get top quality materials for your home. The best part of this is that regardless of the budget you are in, you can find suitable siding materials easily.
Why Cedar Shingle Siding
Low Maintenance; don't worry about maintaining your exterior walls since the Cedar shingles are very durable. Not only do you get to have low maintenance sidings but you don't even have to paint them. Just think of how much time and money you will be saving!
StockMohr is your one-stop shop for all your cedar impressions siding and home renovation needs. Quality service and materials are what makes our company the number one in the Buffalo market today. If you are running out of ideas for your home, you can always consult StockMohr experts to point you in the right direction. So contact Stockmohr today and make your home more vibrant and beautiful than ever before.