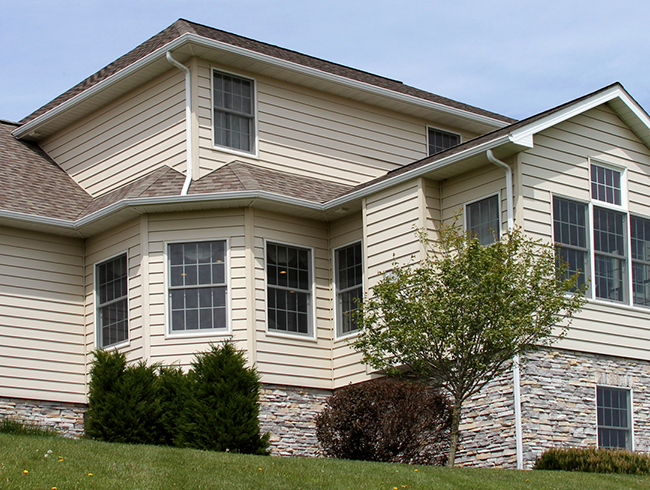 When you think about home improvement projects, you probably think about the cost above everything else. Renovating any part of your home requires time, money and patience. Fortunately, some projects end up paying for themselves by providing your home with newfound value. Whether it's your own property or the home of a loved one, at some point in your life you will likely need to sell a house. If you're thinking about putting your home on the market, now or in the future, some home renovations you complete can add increased value. So, what projects will help provide the most value? We found some great options from Remodeling Magazine's 2018 Cost vs. Value Report:
Steel Entry Doors | #2 Best Value Project for Mid-Range Home Improvements | #3 Overall Best Value Home Improvement

Time for a new front door? According to the report, installing a new steel entry door will recoup 91.3 percent of the project cost! Not only is a new entry door adding almost 100 percent of its cost back into your home, but it's also providing a lot of immediate benefits too. Stockmohr offers ProVia Steel Entry Doors that are made with 49 percent more steel than the industry standard. That means you can say goodbye to cracking or warping because a steel door is the most durable on the market.
ProVia's steel entry doors are also energy efficient, made with a special thermal barrier to reduce heat and cold transfer. ENERGY STAR certified doors, like ProVia, meet strict energy-efficiency standards that can help reduce household energy bills by 7-15 percent.
Do you prefer fiberglass entry doors over steel? That's okay--fiberglass doors scored well on the report with a 67.6 percent return on your investment. Both materials offer an array of benefits to your home, including increased value.
Siding | #5 Overall Best Value Exterior Home Improvement

Siding technology has improved significantly over the past several years. New vinyl siding will provide about 76.6 percent return on your investment. Outdated siding will lack proper insulation and appeal, contributing very little to resale value (and your own comfortability). Siding protects your home from weather and other damage while helping promote proper airflow. Not only will new siding improve the energy efficiency of your home, but the exterior will look a lot more modern and desirable for prospective buyers. We offer three vinyl siding options by ProVia that each has unique, industry-leading features such as a Super Polymer Formulation with rigid foam insulation for maximum durability and performance.
Replacement Windows | #7 Overall Best Value Home Improvement

If your home has vinyl windows that need to be replaced, you can expect a recouped cost of 74.3 percent. Ranking #7 in Overall Best Value, new upscale vinyl windows offer improved security and energy efficiency to your home. Even if you aren't concerned with resale value at the moment, replacement windows can breathe new life into a home that feels (and looks) dull.
Heat gain and heat loss through windows are responsible for 25-30 percent of residential heating and cooling use. It's no wonder that replacement windows offer added value--they make staying comfortable year-round a lot cheaper!
Getting the most out of your home improvement project
There are a lot of exciting ways to spruce up your home and enjoy immediate benefits, as well as long-term value. Replacing your entry door and windows at the same time can create a complementary appearance to the exterior of your home; this type of strategy is great for increasing value and curb appeal (as they often go hand-in-hand). Not sure where to start? Contact Stockmohr today to discuss your ideas and schedule a free in-home consultation!