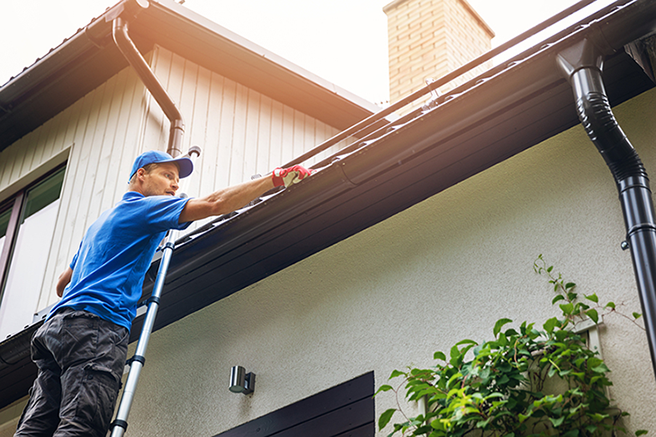 Once Labor Day hits, winter preparation begins for homeowners in Western New York. As the temperature drops, it becomes difficult to complete exterior work. Even a simple do-it-yourself project can become a challenge when the snow starts to fall. Winters in Western New York can be mild, but in this day and age--who knows! Being proactive with home improvement projects will ensure a comfortable winter, whether it be mild or severe. Here are a few projects you'll want to take care of before Buffalo becomes an icy tundra:
Gutter care

When is the last time you cleaned your gutters? Before the elements lay siege on your gutters, make sure they are clear of debris. A clogged gutter will cause an overflow and potentially damage your home with water. A leaky roof caused by clogged cutters is bad enough, but pests also enjoy the debris and sticks lodged in your gutters. Before you run into any problems during winter, inspect and clean your gutters before things get cold or slippery. If your gutters and downspouts are not functioning properly, now is a great time of year to fix them!
If you're not a fan of gutter maintenance, Gutter Cover: Leaf Relief® eliminates the need to clean your gutters or worry about pests hiding inside them. The invisible, flat cover lays on top of your gutters and blocks debris from getting lodged inside and blocking water flow.
Roof replacement

Your roof may not be in the best shape after last winter with all the severe wind damage we experienced in Western New York. Our homes aren't indestructible, and some wear-and-tear is inevitable. Roof damage, however, is something you want to take care of right away. The damage could just be a few shingles missing, or there may be a hole in your roof. Whatever the case, you'll want to get it repaired before winter hits.
Before our homes are covered in leaves, snow and ice, repairing any roof damage should be a priority. Depending on the severity of damage, you may need a roof replacement. The best bet is to call in a professional. Roof work is dangerous and even inspecting the damage yourself is unsafe. The performance of your roof is also important, so, having an expert take care of it will guarantee your home is comfortable and safe all year-round. Stockmohr has been in the roof game in Western New York for over 35 years. If you're getting ready for a roof replacement, you'll want a contractor that's the right fit.
Insulation

There are a lot of factors to consider when focusing on home insulation. Do you feel a draft in any of the rooms in your home? First, you'll want to find the source of the unwanted airflow. During your investigation, you may find that there are air leaks in a window or two. Sealing leaks with caulk or weatherstripping can help keep your home comfortable during winter, but drafty window problems will stick around until they are replaced! Not only will new windows solve your draft-problem, but the right windows will help lower your energy bills.
Windows aren't the only culprits when it comes to poor insulation. When cold air arrives, it can make its way through your siding, too. Siding manages heat flow and protects your home from exterior damage. Worn exterior or high energy bills are a sign that you need new siding! Stockmohr offers a line of vinyl and polymer siding that is durable and maintenance-free to ensure your home is protected and ready for winter (without any hassle).
The Stockmohr Way

Winter in Buffalo is no joke! If your home needs some extra attention before the snow hits, give Stockmohr a call for a free estimate on your replacing your old roof or gutters.