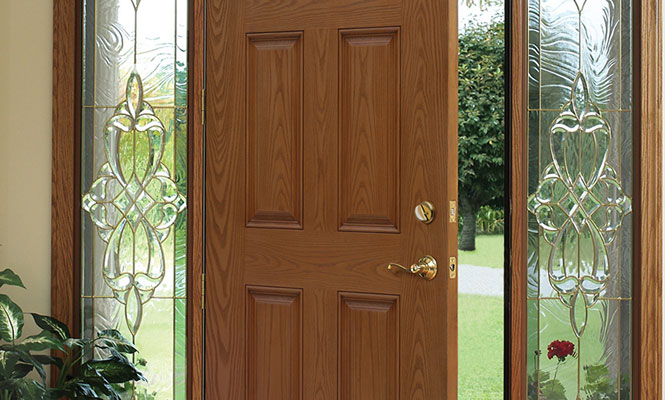 Summertime and the living's easy, right? Yes, summer is a great time for relaxing but it's also the right weather to get your home in prime condition. Summer projects can have your home looking like the sharpest on the block; but, where do you begin? Home improvement projects will add value and curb appeal to your home, but you still have to pick what part of the house to work on. Here are some options:
New front door style

Feeling a draft? It could be your front door. Whether it's a noisy hinge or visible cracks, or you just want to update the look of your front door, summer is the perfect time to reap the benefits of a new entry door. A steel entry door replacement will recoup 91 percent of the project cost in resale value, with a fiberglass entry door falling closely behind in value. Making a smart home investment with such a strong return is a great start to summer.
Changing the entryway of your home is a customizable experience that you can have a lot of fun with. Stockmohr offers three different ProVia door models, each with their own colors and styles. With so many options, you can select a look that complements another piece of your home, like your shutters or garage door. A new front door style will have your home looking summer-ready while helping to keep cool air in and reduce energy costs.
Roof replacement

If your roof was damaged by wind or rough weather over the past few seasons, summer is a great time for a roof replacement. Warmer weather allows for a seamless, safe roof installation that will keep your home protected for when the weather isn't so accommodating.
While the thought of getting a new roof might seem overwhelming, our experts at Stockmohr can make the process much easier. We've provided Western New York homeowners with reliable and trustworthy roof installations for over 35 years. A roof system will consist of quality shingles, ice shield, underlayment, ventilation, and flashings. Our representatives will help you choose which products best meet your needs & budget this summer!
Energy efficient windows

The windows in your home are responsible for a lot of heating and cooling use. Replacement windows add value to your home because they make your home more energy efficient. In a recent report by Remodeling magazine, vinyl replacement windows ranked #7 in Best Overall Value for a home improvement project in 2018. At Stockmohr, we offer many ENERGY STAR®-certified windows for your home; ranked in performance, these certified models are the best in the industry for managing heat flow! Adding upscale, energy efficient windows to your home not only looks beautiful, but you'll also feel the difference.
Upgrading your windows for better performance and energy efficiency is one thing, but what about the aesthetic and style? Replacement windows will have your home looking and feeling just as fresh as the weather outside. It's all about picking the right window model and styling it to fit your home!
New vinyl siding

Does your siding have a worn exterior, or worse? Maybe it's time to update your siding! Vinyl siding is great to install in summer. When you have better insulation, you have cheaper cooling bills. That's a great project to complete before it gets too hot!
New vinyl siding provides a 77 percent return on your investment with the value it adds to your home! If you're planning to sell your home, or just want to update your siding, now is a great time to do so.
Feeling inspired to get started on summer projects for your home? We can help. Contact Stockmohr today for a free estimate!